Over the last week, I've been doing some research on the trends of content marketing so I can plan the best ways to service customers over the next five years.
Putting together a strategy got me thinking. What are some practical trends that local business owners need to know about content marketing? What about people who are looking to produce their own content, what do they need to know?
From research done by OrbitMedia, where over 1000 bloggers took part, I thought I'd put together a short and snappy article on three subjects that I think all small business owners need to take into account.
Number one: You should be increasing the quality and lengths of your blog
Unlike this blog, you should be releasing 3000 word and 2000 word blogs that have all the information people need.
A mixture is great, as it allows you to capture people's attention at different points in the buying cycle and in different situations.
For example, I may want a really long blog post if I am doing research on a product at home on my laptop. If I'm searching on the mobile while I'm out looking for a specific product, the way I search Google will be very different.
Back to the point.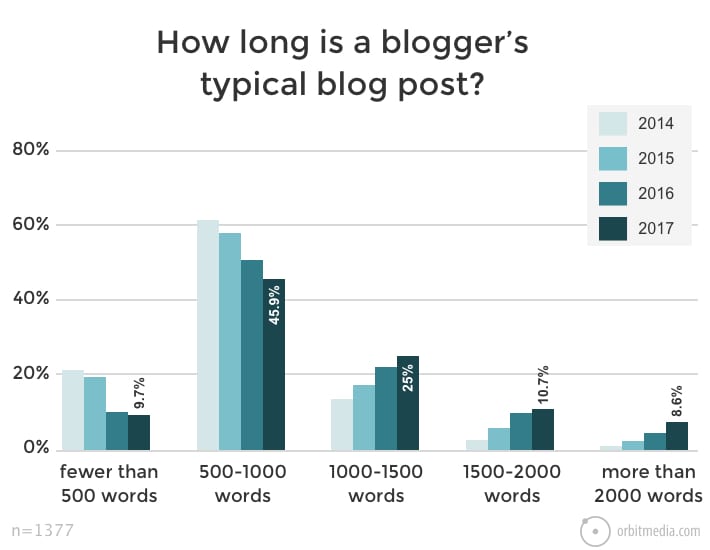 #
Looking at the trends from a recent study (above). Over 1000 bloggers took part in this study, and it showcases the trend over the last few years – that is, longer and more meaningful content.
No longer is it about producing lots of content, but about producing better quality, longer content to successfully capture your audience's attention.
Another graph from the study showcases the typical length of blog posts.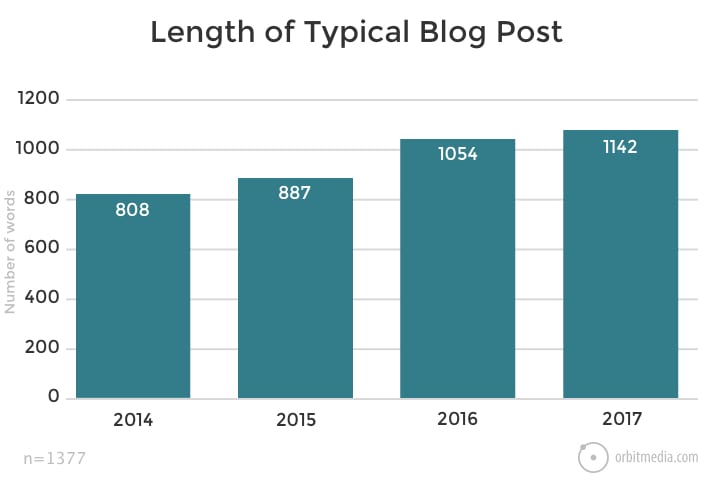 There's been a nearly 50% increase in the last three years in the length of your typical blog post. Why is that? From the study, we do get caution:
Careful with this data. This doesn't say that long posts are always better. But it does show that greater investment correlates with higher ROI. More bloggers are going deep into the subject matter, answering questions from every angle, and making a sincere effort at producing the best page for the topic.
Here's some key findings on the length of topics over the last couple of years:
The average blog post is 1142 words long.
That's 41% more words than the average post three years ago!
Half as many bloggers are writing shorties (<500 word posts).
Six times as many bloggers are writing long (2000+ word posts).
Number two: The way in which people are driving traffic to your audience needs to be more diverse
The reason I suggest using our digital package (a website, content marketing and social media combined) is for us to develop an holistic strategy for your brand. This means that we can, together, take full control of your digital brand and work on compelling content to engage your audience with – on all fronts.
It's obvious social media is going to be the largest way we drive traffic to our posts. But with recent Facebook changes (it's a lot harder to get engagement on traffic directing FROM Facebook that it was say, a year or two years ago), of course we can adopt our social strategies to suit but there will inevitably be changes in the way people push (not push… promote, sorry!) their content to their audience.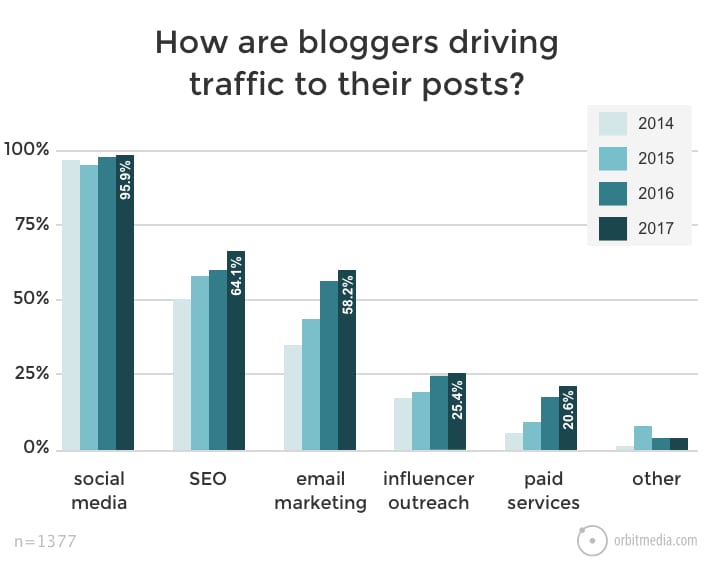 As you can see above, there's a lot more focus on SEO. I'm taking that correlates with the above statistics, which shows that people are writing longer, more detailed blog posts, which means they're likely taking better advantage of SEO best practices (keyword placements, quality content). There's been a trend towards paid services (pay-per-click ads) to promote blog posts to audiences, which again will correlate with Facebook's recent changes..
What does that mean for my local business, how can I take advantage of this?
Go back to the heading: "The way in which people are driving traffic to your audience needs to be more diverse"
We're constantly evolving and although social is still the primary channel in which you can drive traffic to your content, there are other options that you should be taking advantage of.
I'd like to mention: a recent experiment of mine proved this recently. I was promoting my April Sale (half price on websites), and I was doing so with Facebook Ads – an image, copy text, a sales pitch. I had another advertisement running that was for a piece of content that was related to websites, which had much more engagement. Sometimes people want to read your blog, it's just that they're not yet in your circle of influence.
Advertising your content through pay-per-click ads may not be such a bad idea after all….
Number three: It's alright to update your old content – in fact, it's good practice for SEO!
Are you wondering whether you should update your old content?
Time after time I thought about this question. I would go back and just alter some of my blogs, and wonder "Should I be doing this?"
The answer seems to be yes. Updating your old content and keeping it refreshed basically gives Google the signal you're still alive!
"Bloggers who update older content are 74% more likely to report strong results. As the body of work behind a blogger grows, it's gets easier to look back and find opportunities to update, rewrite and republish."
What can you take from this?
First off, get a baseline of content. Produce good, quality content. If you publish four a week, an HubSpot study suggests you will get 450% more leads a week than those who produce just one or two blogs per week.
If you produce four a week, within a six months period you will have one hundred articles. That is a great basis to go back, re-edit.
I've been writing blogs for SME Social for around ten weeks now and have published thirty-five blogs.At this rate, I'll have nearly two-hundred blogs for the year. That's some catalogue for an entrepeneur, but I do write for a living!
After you have this base? Go back and re-edit.  My idea is to go back to my raw, first content, update it with new knowledge and skillsets, but also link to newer articles, provide insight into those topics through "related content" posts and consistently improve on the articles I already have.
If you're a local business who is not using content? You're missing out.
You can see that over the last three years, the amount of content being produced is not only higher, but it's also higher quality. We're in a constant war for the attention for our customers, and although I am a writer by profession and I may be biased, my belief is that content marketing is going to become inevitable for every company.
Why?
Because, as we move more towards this digital age where the consumer is in control, the only way you can separate yourself from the competition? Your content, which is the ultimately representation of your brand.
There are some excellent statistics on how content is so effective from the content marketing institute:
Content marketing generates over three times as many leads as outbound marketing and costs 62% less.
Almost half of 18- to 49-year-old people get their news and information online – and those numbers are growing.
Small businesses with blogs get 126% more lead growth than small businesses without.
Content marketing rakes in conversion rates six times higher than other methods.
The most effective SEO technique? Content creation.
Businesses publishing 16-plus posts a month get almost 3.5 times more traffic than businesses publishing zero to four articles
Looking to grow your business? I'm a certified digital marketing professional, perhaps I could help? Get in touch to see what we can do to raise the authority and awareness of your brand online.