You have a website. But is it fulfilling a purpose? I speak to businesses on a daily basis who say they're fine with their website, but when I ask them if it's bringing in any new leads or generating traffic, they either say no, or they don't know.
Others problem include; outdated services that cannot be changed, no way to add content, among other issues. Here's seven reasons that I know businesses face with their online presence that suggest they may need a new website.
Your website is outdated
What does an outdated website say about a company? What does it indicate if you have the wrong details, prices, services, or you simply haven't updated the content on your website for months, or even years?
It says that you're an outdated company, that's what.
One thing is, it doesn't do you well when trying to convert people online. You look unprofessional, most probably the website is unresponsive and you certainly won't rank on Google for many topics. Just think about the times you have looked to buy something, seen some services on a truly outdated, rough-looking website, you probably didn't even read it. In fact, you probably viewed it on your mobile phone, and quit before it even loaded because it was taking so long.
There's plenty of reasons to get a new website, but this has to be the top one: you're getting outdated! You need to move on
Generally, I'd say websites older than three to four years are certainly due an update.
Your website is not mobile optimized
The world has gone mobile: it's official. More content is browsed through mobile than it is through desktop.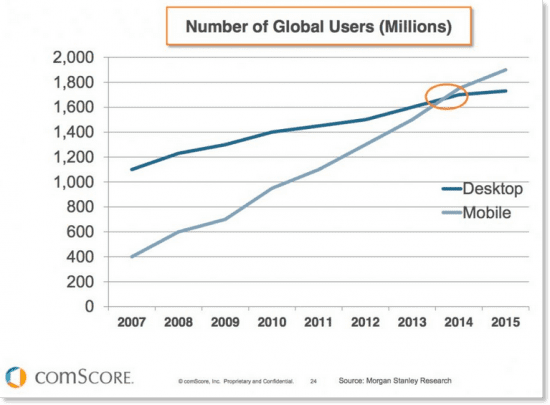 In fact, it happened yesterday ago.. When you're speaking about online content, you should be really designing for mobile in mind, and optimizing for desktop.
Well, that does depend on industry, type of website, type of content, but generally – mobile should come first, particularly for business to consumer products and services and services that take very little consultation, research or are not considered a huge decision (for example, before investing in a website, content marketing and social media marketing, you may want to fire up a desktop and do some research – but if you're purchasing a pair of socks, you could quite easily do that on your mobile).
The fact is, if your website is not optimized for mobile viewing, you should do something about it if you want to make an impact online.
You have new services that aren't on your website
This can be a particular problem for a local business. You've added services, or you have new services that you're now offering as you expand. Your current customers might know, they might be taking advantage of that, but without updating your website to let people know that's now something you do too, how can you expect to generate leads online?
We're in a consumer-based society in which people expect your business to be updated online. If you're not, you'll lose customers. When I first spoke to one of my clients, he said "Look, I've just lost a contract to install CCTV in a full complex – it was 80 CCTV cameras. This was due to my full list of services not being available on my website. I need this sorting out."
We created him a new site, and are looking to ensure it is effective with his technical SEO and we've developed a long-term contract for me to not only continuously update his projects and services, but also for content marketing and social media management. He's happy, he has a new site, and a digital marketer at hand to help him attract new clients and analyse his results.
Your web designer did a poor job to start with
This industry is full of rip-off artists, as many are. They are ineffective, inefficient and it seems they're full of greed. I spoke to a client a couple of week back who had paid £400 for a shell of a website – WordPress based website, with pages and a theme. But NO CONTENT.
This doesn't need to be the case. Others have had a site designed, and have no way to update it. They also have terrible SEO, their website doesn't look professional and in the end, the site does their company an injustice, selling their services short.
If it doesn't look professional, if it's not got a good flow and doesn't lead people to convert into sales, then what's the point in having a website?
Your SEO is completely messed up
Are you running a website but not getting no leads from Google at all? Are you not visible on search engines for popular topics?
It may be that the technical aspects of your website are not right. Your sitemap, your robots.txt file all make an impact on your SEO and how search engines read your website.
It is mostly about content, your keywords and how relevant your website it to your audience. All of this may be enough reason to get a copywriter to change content on your website to make it more relevant to your audience.
You have no way to add content
Content marketing should be the cornerstone of your digital presence. Updating your website with content, blogs and new information regarding your projects or company news should be mandatory for everyone. If you're not adding content, how are you adding value to your customers? And if you're not adding value to customers online, you may scratch a few over the phone, but you're missing out.
Take it from me; I've been going for two weeks, I've yet to make one sales call that is cold. I've had plenty of calls (every single day I have at least 2-3 calls, sometimes as much as 10 leads within a day from LinkedIn and my website together) over the last two weeks, though none of them have been "Hi, I've just seen your website, and here's my services." They've been like "Oh, Hi Karl. It was nice to speak on LinkedIn.." and we're straight into the details.
Don't get me wrong, when my free trial is over, when I have a portfolio to market my services, I'll be on the phone making cold calls. I don't believe cold calling is dead, that saying is just for those who have given up on their sales skills. But those cold calls will soon become very warm when they visit my site, and see that I'm publishing new content every day and providing them with immediate value.
Your small business can benefit from content marketing, but only if you site allows it to be published.
Your website has not generated any sales yet
If you haven't generated sales or leads from your website, it's because of one of the points above (no content, wrong services, not updated, not mobile optimized, web designer did a bad job… or probably a mix of all of them).
This to me would indicate that your site is not optimized with your SEO, you have no way to market your website, and/or the website is too hard to navigate or doesn't provide any value to your customers.
Look at it like this; we're in an information age in which I could go to many many different companies that provide your service. If they're online, and have a better web presence, guess where I'll go? It doesn't matter if they're double the price and are half as good as your service, they'll get the business. Why? Because they're marketing themselves appropriately.
Do you need help getting a more updated, responsive website that will help professionally brand your business and sell your services or products online? You should get in touch today for a free consultation on 07904008731.